Sarees are highly valued possessions that are adored for their brilliance and unique blending of brilliant colours. Silk sarees hold a unique place in all of our hearts, not just because they are magnificent but also because each one we own is connected to a wealth of romantic memories. This is why it saddens us to see silk sarees degrade or be destroyed as a result of carelessness. Be it any saree, silk cotton sarees, kanchipuram silk sarees, or Tussar silk everything needs to be taken care of.
As a result, they should be treated with a little more tenderness and care during the entire maintenance process. Understanding the fabric type, the colours used, and the numerous embellishments used to adorn your saree will help you take good care of it. Although Silk Saree Maintenance is difficult, here are a few suggestions to keep your silk sarees in good condition.
Do's:
Dry cleaning sarees is effective in removing stains, but it must be done as soon as the saree is stained. Protein shampoos can sometimes help remove stains on sarees. Oil and butter stains can be erased by putting talcum powder on them and washing them in cold water with a light detergent. Stains can also be removed with a solution of hydrogen peroxide alongside detergent.

When ironing silk sarees, use a low heat setting. If the wrinkles do not disappear, wrap the saree with a fine muslin towel and iron on high heat. Silk sarees are best ironed with a steam iron. Also, change the crease of your saree on a regular basis to protect your saree from having a permanent fold mark.

Rinse your saree with a light shampoo diluted in plain water after a couple of washes. This will preserve the saree's gloss and brilliance.

After each wear, let your silk sarees air dry. Your silk saree should be kept out of the washer as much as necessary. Give them to your dependable dry cleaners if it is definitely necessary. Alternatively, you could clean your silk saree by hand at home using a light detergent.

Silk sarees are not to be stored together or with other sarees. Rubbing between the sarees might be damaging. Instead, store each silk saree in the cabinet wrapped in a muslin cloth or a prepared saree bag.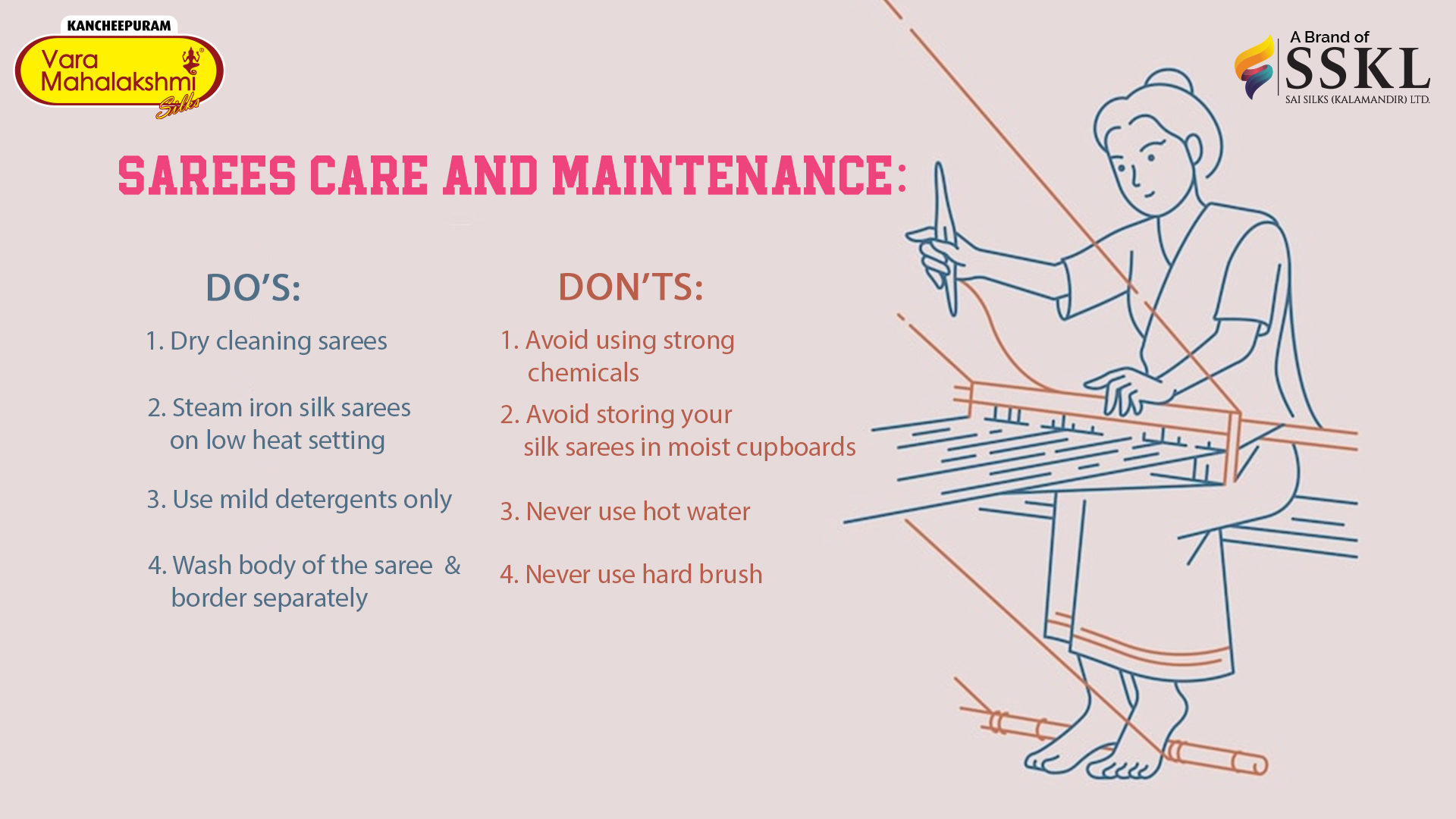 Don'ts:
Due to shortages of time or the work taken to make the trip to the dry cleaners, it is not always viable to dry clean silk sarees. The best part is that silk sarees can be washed at home. Water alone will suffice! Avoid using soap for a minimum of a couple of washes If the saree is new.

Try to avoid using detergent and wash the border and pallu separately for the first few washes. As detergents can be harsh it could remove the lustre of your Pattu saree.

Avoid using strong chemicals. Also, do not soak the saree in water for an extended period of time. You should also never wring, rub, beat, or curl your saree. Avoid washing it in the sun. If feasible, towel-dry the saree to let the water drain rapidly.

On the other hand, silk sarees should not be exposed to metal hangers because they could interact with them and harm them.

Finally, avoid storing your silk sarees in moist cupboards, which can lead to fungal or silverfish infection. To avoid this, keep silica gel sachets and naphthalene balls close to your silk sarees.