Weddings are a lavish affair in India, with people dressing up their best and showing their most expensive and exquisite sarees off. And to dress up their best, women usually opt for opulent Kanjeevaram sarees or mesmerizing Banarasi sarees.
Origin
Originated in the ancient city of Varanasi or Benaras, Banarasi sarees are one of the finest sarees in India. These sarees are known for their silver and gold brocade, fine mulberry silk and magnificent embroidery.
How to Identify a Pure Banarasi Saree?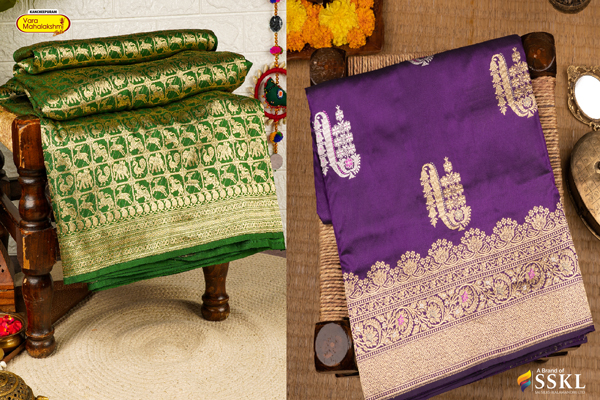 Do you also think identifying a pure Banarasi saree is difficult? Worry not. These simple steps will make it easy for you to identify a pure and authentic Banarasi saree:
You may do a quality check on your own to determine the authenticity of a handmade Banarasi saree. Loom-woven Banarasi sarees will always have floats within the warp and weft grids on the reverse side, but machine-woven sarees will have a smooth finish.
Pure Banarasi sarees are crafted from high-quality pure silk and zari threads derived from expensive gold and silver alloys. The weaving process of these drapes is equally time-consuming, lasting weeks or even months. These are the primary reasons why Banarasi sarees are more costly than other sarees.
So, if you come across a cheap Banarasi saree, it is most likely fake. Remember that if a deal seems too good to be true, it most likely is
– Check the reverse side of the saree.

– See for pin marks.

– Ask for a certificate.

– Take a close look at the price range.
Types of Banarasi sarees
Banarasi sarees are classified into many types based on their weaving technique and designs. By fabric, Banarasi sarees are classified into the following types:
Pure silk

(katan)

 Organza (kora) design with silk & zari
By design, Banarasi sarees are classified into the following types:
 Jangla Banarasi sarees

Tanchoi Banarasi sarees

 Cutwork Banarasi sarees

Tissue Banarasi sarees
Accessories to Style your Banarasi saree
Weddings, pujas, parties or festivals, Banarasi sarees are the perfect pick for any occasion. Here are some accessories you can style your Banarasi saree:
Belts
Adding a belt to your silk saree enhances its appearance with a unique and stylish flair. Belts effortlessly transform a simple saree into a fashionable, chic, yet stunning attire.
Necklaces
Elevate your style quotient by adorning statement necklaces with your silk sarees. Whether it's chokers, long, or short necklaces, pairing any of these styles with your silk saree adds a touch of regal elegance to your look while keeping it trendy.
Bangles
Someone rightly said that a woman's best friend is bangles. Bangles in multi-colors, single-colors, or dual-tones impart a completely traditional appearance and harmonize perfectly with your silk sarees.
Jhumkis
No matter the size, small, big, or medium, jhumkis are an excellent complement to any saree, particularly silk sarees. Jhumkis in gold, silver, or multiple colors are always an ideal choice to wear with your silk saree.
Why Should you Choose Kancheepuram Varamahalakshmi Silks?
Experience an extensive collection of drapes at Kancheepuram Varamahalakshmi Silks, featuring a diverse selection of colors, designs, and weaves, ideal for all your special events.
Whether it's weddings, festivals, parties, or pujas, our Banarasi sarees are the ultimate choice for anyone seeking a blend of modern and traditional styles. Visit Kancheepuram Varamahalakshmi Silks, your go-to destination for the perfect saree!
For the most effortless and comfortable shopping experience, explore our website at kanchivml.com and enjoy the convenience of online shopping.
At Kancheepuram Varamahalakshmi Silks, we provide a one-of-a-kind shopping experience with our round-the-clock customer support team, available to assist you from purchase to delivery. Discover the most genuine sarees at the most reasonable prices with us.