Every mother's love for sarees is endless. No matter how many sarees she has, she will always be in need of another one. In fact, every saree has a story to tell. Some were given to her by her family, some by her first income, and a couple of them by her close friends and so on. But, what makes a saree memorable for any mother is when it is given to her by her children. This mother's day gift your mom a priceless edition from our very own Kancheepuram Varamahalakshmi Silks. If you are wondering what you could give her, we are here with a few suggestions that could help you pick one for your Mom. 
Banarasi Sarees: A Timeless Gift for Mother's Day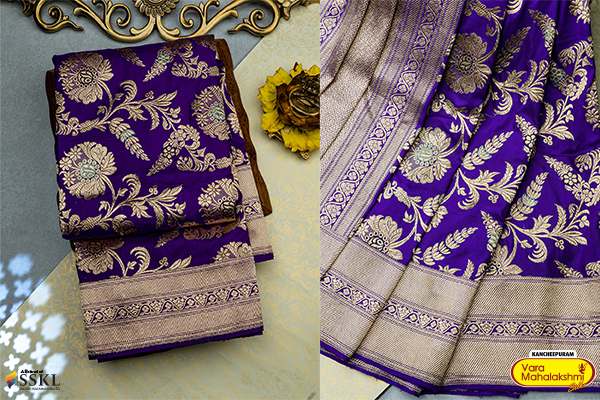 These ageless sarees have a lot of history to it. A lot of sophisticated and intricate designs are incorporated in this ethnic wear, making it stunning. Zari themes and emeralds are used to create these trendy and unique weavings, they are quite a favourite among women all over the world. These lovely and gorgeous sarees have grown in popularity and are now every woman's first pick when we talk about traditional yet modern sarees. Whether it is traditional or modern, this Banarasi saree would be a best pick for your mother.
Kanjivaram Sarees: A Touch of Tradition for Mom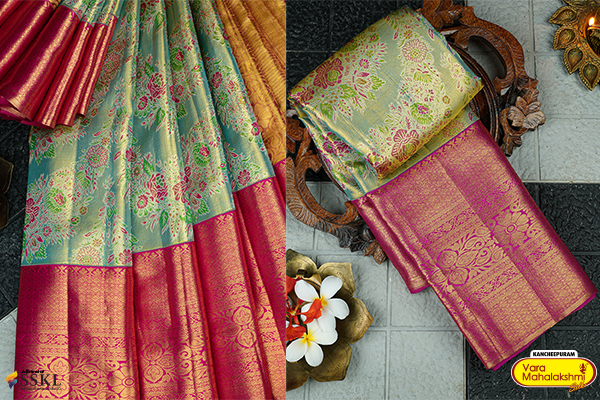 India is rich in its beautifully woven silk sarees, but what makes Kanjivaram sarees different is its weaving techniques. Employing rich raw materials, exquisite craftsmanship, and gorgeous designs this saree is spectacularly woven in the town Kanchipuram, Tamil Nadu. These lovely sarees are spinned of a stunning colour combination and sturdy fabric. Kanjivaram sarees with a touch of gold thread are ideal for any kind of event or celebration. Be it opulent weddings or modest functions this exquisite saree would make every woman feel special. So, if you are planning to surprise your mother, we are sure this would move her.
Chanderi Sarees: Lightweight and Elegant Mother's Day Present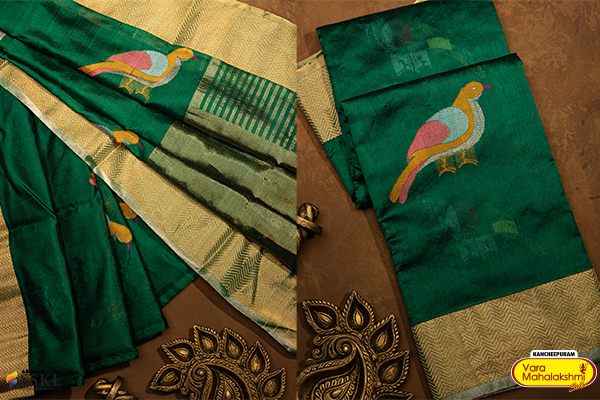 Not a lot of women are interested in carrying heavy silk sarees. So, what is the alternative? Well these Chanderi sarees are nothing less than any traditional silk saree. The beauty of Chanderi cloth is found in the lovely motifs embossed on the fabric. The grace motifs maintain true to the colour of the threads employed, which can be gold, silver, or copper. Having the choice of Chanderi in beautiful pastel colours provides a sense of vibrancy and life to the ensemble. The sarees texture being light in weight is also ideal for summer wear. Additionally, the elegance it carries and the opulence it gives is peerless.
Ikkat Sarees: Vibrant and Unique Gift for Your Mother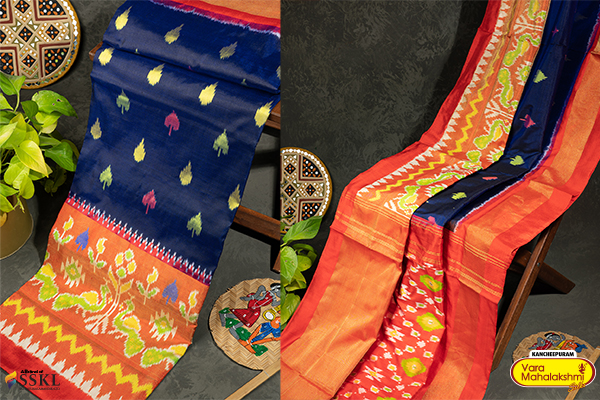 Obtaining its unique aesthetics from precise calculations developed by focusing on the proportions of the motifs, ikkat sarees are the glory of Indian textiles. With its both Modern and Traditional designs it is sure to steal your heart with its unique designs. There are a variety of prints in this saree range like, Warp Ikkat, Weft Ikkat, Double Ikkat. All these have their own weaving techniques. It is worth conserving and promoting abroad. Ikkat, a centuries-old weaving method that is still a sign of grandeur and beauty, can be the best gift that your mom can have in her wardrobe.
Georgette Sarees: A Versatile and Chic Gift Option for Mom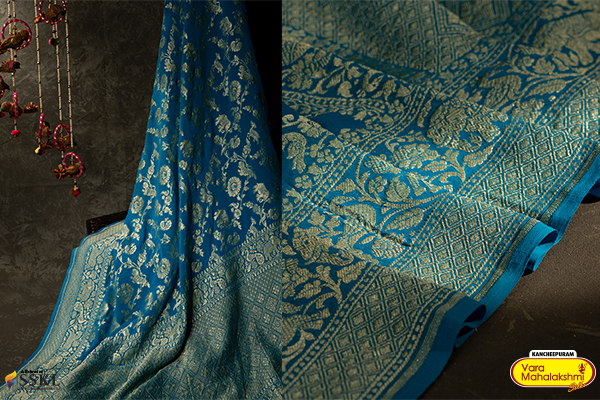 Who doesn't love a light weight georgette saree? Georgette fabric has a distinct appearance and feel.  It is made by weaving highly tangled yarns into a single cloth. These are made up of various materials. Besides, georgette fabric is extremely durable, which allows it to be easily decorated and embroidered with various motifs. It can be also experimented by wearing it with a crop top as a blouse for a more chic look. It's also incredibly absorbent and exhibits many colours.
Bandhani Sarees: A Colourful and Playful Mother's Day Present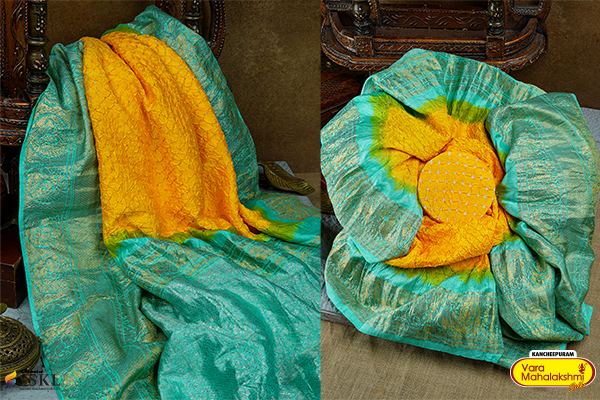 This print dates back to a history of the 6th century, in the Ajanta Caves, which have Bandhani references. It is an Indian handmade textiles-art/craft that is often weaved out by trained Bandhani artists, dyers, and workers, as well as experienced families involved in the craft traditionally. These Bandhani sarees are popularly available in Rajasthan and Gujarat. Nevertheless, these prints see holy associations everywhere, including them in all kinds of auspicious events. So, if you are planning to present a Bandhani saree to your mother, make a colourful and vibrant choice as these are available in all the colours.
Tussar Sarees: An Earthy and Luxurious Gift for Mom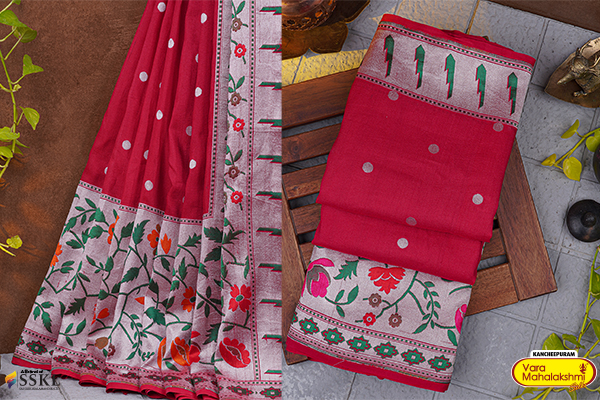 Tussar Silk, also known as 'Wild Silk, is a magnificent thread. Tussar, which is mostly produced in India, is highly regarded for its distinctive gold colours. Tussar silk worms are reared in a way that makes them a less expensive variety. Tussar silk, on the other hand, is as distinguished as any other. Floral designs, as well as those shaped like trees, bells, buds, and leaves are a source of inspiration for Tussar silk. Tussar silk is much more textured than other types of Silk which is luxurious and is known to be a breathable fabric.
Gadwal Sarees: A Graceful and Stylish Mother's Day Gift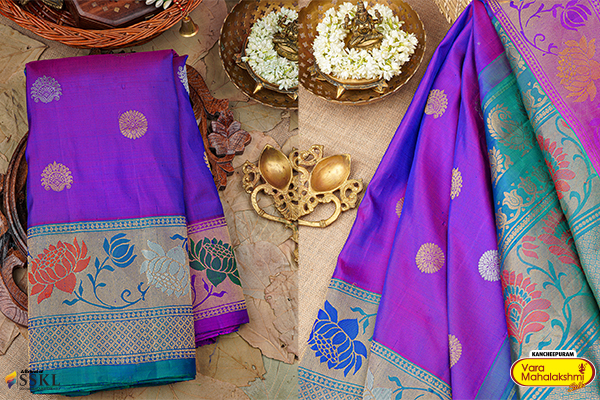 Gadwal are woven in Andhra Pradesh and draw inspiration from South Indian styles of architecture as well as traditional motifs such as lotus and flowers. A Gadwal saree is defined by the use of cotton yarn on the body of the saree and zari in the border, whereas a Gadwal silk saree is defined by the use of silk all throughout. You would find a lot of Gadwal silk sarees in beautiful contrast colours and combinations that compliments different skin tones. The stark differences of the saree borders are also the most appealing and make these sarees subtle and stylish for a variety of events. Why late? You can readily grab one of these for your mother this Mother's Day.
Patola Sarees: An Exquisite and Rich Present for Your Mother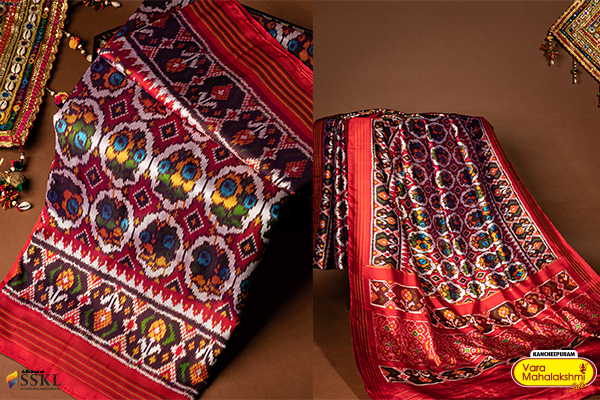 Patola sarees are known to be one of the finest silks from Gujarat. Weavers create these sarees on a specific type of silk known as "Patola Silk." Each Patola saree is unique by nature and represents the weaver's talent and vision. These patola designs have historical evidence that can be seen on the walls of south Indian temples, such as at Mattancheri (Kerala) and Padmanabhapuram (southern Tamil Nadu). Patola sarees typically have motifs such as animals, flowers, human figures, and birds as their designs. Patola sarees are a treasured possession for women all over the world as they are lovely and can be worn at formal occasions as well.
Paithani Sarees: A Regal and Time-Honoured Gift for Mom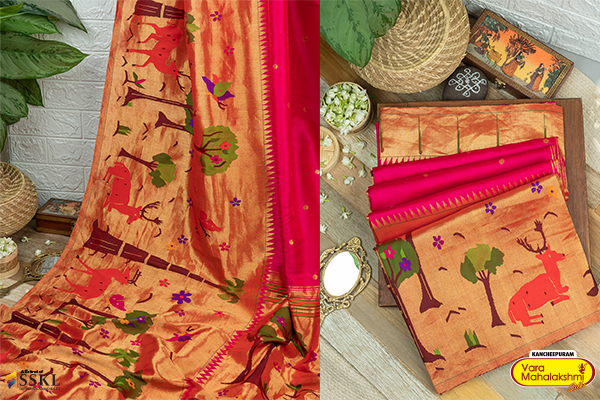 Paithani sarees are one among the most treasured sarees in India. These are traditional sarees from Maharashtra and are popular all over the world for its hand looming and rich tradition. They are intricately woven into Maharashtrian tradition to make the wearer look attractive because of their stunning and flamboyant appeal. Since Paithani are available in a wide range of colours and patterns, you can choose one for your mother that fits her taste and trust us it is a treasure your mom can cherish. 
From Kanjivaram to Gadwal sarees and Paithani to Tussar Silk sarees we at Varamahalakshmi Sarees promise you a comfortable and stress free shopping that assure Price, Quality and Range.