Reception is a time when you can get ready to the fullest and enjoy the most! Whether it's a dance planned with your partner, or a family dance for the bride and groom, the reception ritual in a wedding is the most looked-forward event to!
All the guests mostly come at the time of the reception to watch the bride and the groom enjoy themselves to the fullest.
Brides these days prefer trendy lehengas or full gowns for their reception look, but what makes you stand out on your reception is when you opt for a traditional yet classy saree!
We list down some very elegant and enticing collection options which you can opt for your Wedding Reception!
Kanchi Tissue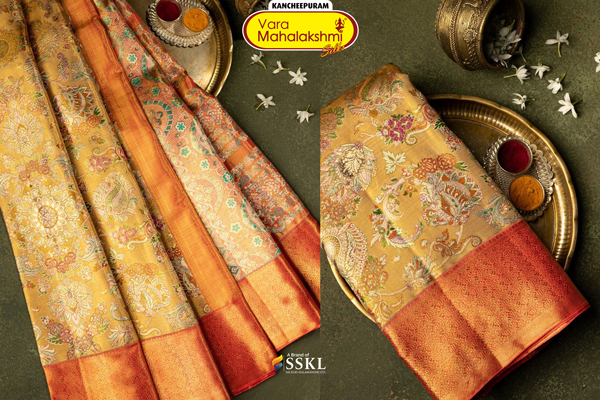 Light-weight, traditional yet super elegant, Kanchi Tissue sarees give you a divine look along with the utmost comfort. With exquisite colours, enticing butti works on the body and luxurious Kanchi borders, Kanchi Tissue sarees are the perfect pick for your Wedding Reception evening!
Paithanis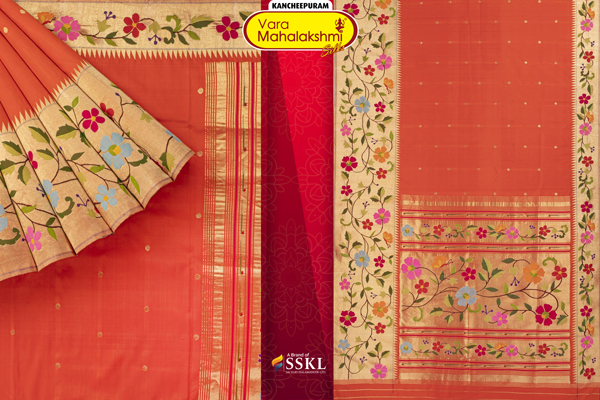 The oh-so-beautiful Paithani sarees are known worldwide for their gorgeous designs and royal colours! From bright reds to hot pinks to enticing blues to suave greens to breezy yellows, Paithani sarees come in all bright and beautiful colours! From peacock motifs to elephant motifs to swan motifs to big floral buttis and leaves buttis, the Paithani sarees make a perfect pick for a subtle yet elegant Wedding Reception evening!
Kalamkaris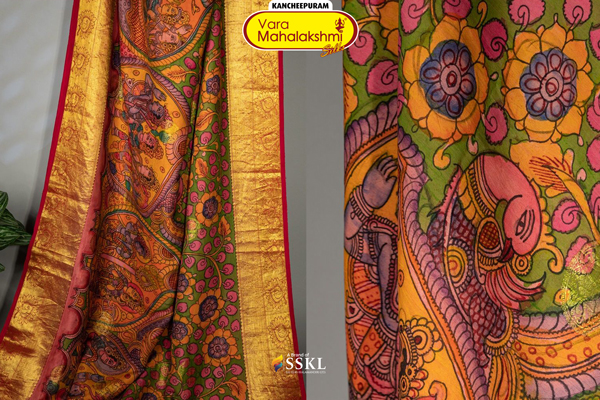 One can never go wrong with Kalamkari print sarees. These sarees give off all the luxurious and royal feels one needs to have and emanate on their wedding day! The authentic prints on Kalamkari sarees are all to die for! With motifs of men, women, animals, birds and flora & fauna, Kalamkari sarees make for a wonderful pick for your Wedding Reception!
Chikankaris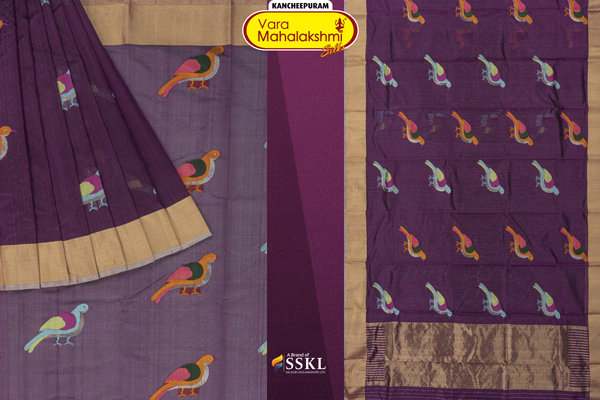 Do we have to say anymore? Chikankari work is the most beautiful handwork one can ever own! Be it a gorgeous Chikankari Kurti or an exquisite Chikankari work saree, nothing beats the grace of it! The fine thread work on the netted Chikankari saree brings out the gloriousness of a person wearing it. Plus point is, Chikankari sarees come in so many pastel shades that brides who want to opt for a pastel look at their Wedding Reception will love it!
Why should you choose from Kancheepuram Varamahalakshmi?
At Kancheepuram Varamahalakshmi Silks, we offer you a great collection of sarees for your Wedding Reception ceremony. From gorgeous Paithanis to luxurious Kanchi Tissues, from opulent Chanderis to divine Kalamkaris, from elegant Patan Patola to beautiful Organzas, we bring you a wide selection of collections to shine on and enjoy your fun-filled Wedding Reception ceremony!
At Kancheepuram Varamahalakshmi Silks, we bring you royal sarees that are perfect for the south Indian weddings. Intricate designs, exquisite colours, regal collections – all that you need for your big day or any special occasion under one roof!
From weddings to festivals, from parties to pujas, from stylish & chic to traditional – we give you a variety of collections to choose from!